December 6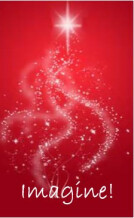 Our Theme for Advent is IMAGINE. God's dream for the world is that all people should live in hope, peace, joy and love, and Jesus came to show the way to that hope. There are many in the world who live in fear, poverty, war, and danger, and during this Advent season, the people of RUMC are imagining a world where the children of Africa no longer live in danger of contracting Malaria which kills 1 in 5 children. Each day, we are invited into the scripture, to imagine God's future, and to contribute a small amount to bring about the dream of No More Malaria.
Scripture for the Second Week of Advent: Now may the Lord of peace Himself give you peace at all times and in every way. 2 Thessalonians 3:16
Prayer for the Second Week of Advent: God of Glory, Your splendor shines from a manger in Bethlehem in the darkness of human night. Open our eyes to Christ's presence in the shadow of our world. So that we, like Him, may become beacons of Your justice, messengers of Your peace, and defenders of all for whom there is no room.