December 2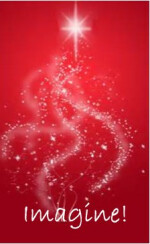 Our Theme for Advent is IMAGINE. God's dream for the world is that all people should live in hope, peace, joy and love, and Jesus came to show the way to that hope. There are many in the world who live in fear, poverty, war, and danger, and during this Advent season, the people of RUMC are imagining a world where the children of Africa no longer live in danger of contracting Malaria which kills 1 in 5 children. Each day, we are invited into the scripture, to imagine God's future, and to contribute a small amount to bring about the dream of No More Malaria. (Anyone wishing to join us in contributing to this national campaign may request an offering box or send a check to the church. Call 410-833-5440 or PM for more details.)
Scripture for the First Week of Advent: May the God of hope fill you with joy and peace as you trust in Him, so that you may overflow with HOPE. Romans 15:14
Prayer for the First Week of Advent: Gracious God, Your vision of peace and wholeness comes to us in sweeping revelations and in tiny signs of hope. Kindle our hearts that we may be a hopeful people. Keep us from growing weary of waiting lest we miss the glory of Your appearing. Even so, come quickly, O God. Amen.
Today's Focus: Christmas is a time when love of our fellow man should prevail over all bitterness and hatred.
Contribute $.25 for each type of cookie you make for Christmas.