Salute to our Veterans
Sunday, November 11, 2018, 9:40 AM - 10:15 AM
A Salute to Our Veterans and 1st Responders
Veteran's Day—As we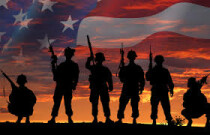 know it, is a time to remember those who have given the ultimate sacrifice to keep us free in the homeland.
November 11th was first declared the anniversary of the Armistice of WWI in 1918.Then in 1954, the name was changed to Veterans Day.
On November 11, 2018, we will feature a small celebration of our Veterans and heroes (i.e., firefighters, police officers, etc.) during the Grow Hour in the Sanctuary beginning at 9:40am. There will be singing, a time for prayer and a time to recognize all those who have served in the military or as a first responder.
Everyone is invited!