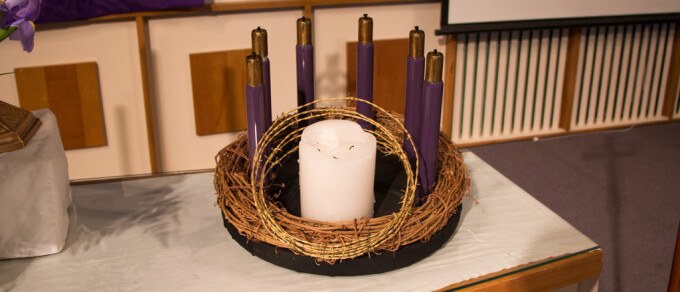 Years ago, I fell in love with the liturgical calendar. It happened when I realized that it actually was a simple re-telling of Jesus' story – a kind of walking with Jesus through His life. It was like (and still is) I was there, experiencing the amazing story of salvation again and again. Each year we hear and participate in the old, old story.
As Lent begins during the week of Feb. 15, we have the opportunity to walk with Jesus through the crucifixion, all the way to resurrection as usual, experiencing the ups and downs with a very different perspective – that is, by linking the God Story to our personal story.
Small groups are forming to spend time discovering those links together, and each week's worship will reflect the theme of that week's small group theme.
The worship teams, United Methodist Women and the Education team are working together to see that every family has a devotional guide (which is the guide for the small groups). The study is organized around the "shape" of a great story or play: Introduction, Suspension of Disbelief, Rising Action, The Inciting Incident, Soundtrack, and Waiting for Resolution. Each week, I will provide a "meditation brief" for use during the service with some suggested conversation starters for use at home, especially written for use with young children. The guide book is easily used with teens, and probably with youth as young as 10 or 11.
My hope is to engage all of us in worship in our own life story, and I hope you will be open to both looking at and sharing your own life story, if only with those closest to you.
Rich and I will be taking a week of vacation, February 8 through 15. We will spend Feb 6-8 with the youth at ROCK and then head to Cape Cod for the week. If there is an emergency, please call Robine in the church office during the week or, if it is on the weekend, please call Sue Wright (410-833-6738) or George Hoffmann (410-526-6967), the lay leaders. They will be able to help you contact the pastor on call or provide help as the situation warrants.
Thank you for all of your prayers for my brother-in-law Glen and my sister Anita. The cancer he has is very aggressive, and he is truly suffering. We live in hope, praying for an end to the suffering and thanking God for the presence and comfort of Jesus.
Blessings on you,
Vivian