SMILE! Cause God is watching!
YES HE IS, and so is Pastor Vivian!
Smiling can suggest the blessings of inner joy and gladness. Just as our smiles bless others, we benefit from the smiles we receive in return. Our smiles convey our heartfelt gratitude for all the blessings we receive from God, He fills us with new faith and is a source of life, love, peace, freedom and joy, Wherever you are, He is with you, closer than a heartbeat.
So, continue to let go and let God. Continue to allow the flow of His light to shine in your faces as you listen to His Words both spoken and sung. It is the truth of His blessings of which you smile not because Pastor Vivian gets us out on time.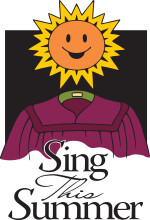 OH, by the way, the Summer months are approaching.
Thank you Jesus!
We will need substitute singers and instrumentalists to provide music for our services. Please contact me or Robine in the office if you are willing to share your gifts. This invitation is offered to our youth as well. I can be reached at 410-526-7241, or visit with anyone in choir after the service on a Sunday morning.

In moments with Him,
Bill Myers
Director of Music Ministries