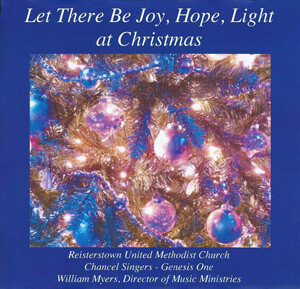 "We don't fear the darkness, we carry the Light." Our CD is available for your enjoyment during this very special time in the religious life of Christians.
Some of you have expressed your delight in the music presented by the Chancel Singers and Genesis One at Christmas On Main Street. Several of the numbers sung at Christmas on Main Street are recorded on our CD of 2014. The cost is $13.00 and checks should be made out to Reisterstown Methodist Church. This is NOT a fund raise but our gift to YOU, who have supported us over the years. At only $13.00 per CD, and selling of the 100 CD's , we will break even. We thank you for the many who have already made your purchase.
Take a look inside the inner jacket to read a message from us.
To purchase your CD, see Pat, Barb, or Bill Myers this Sunday prior to and after the 8:30 and 10:30 services in the music room. Also, Robine will have a few CD's in the main office.