From the Pastor - Midweek Message August 17, 2016
Dear Friends,
This coming Sunday, August 21, is a big day. It's Back-to-School with

Blessing on the Backpacks Sunday and a POTLUCK luncheon. Please see info further down in this newsletter on what you should bring. (I'm an "M," so we'll be bringing lunch meat, but no, it's not quite as simple as M=lunch meat since L's bring meat as well – hee hee hee!)
It is also the second Sunday in our worship series, What Did Jesus

Ask? This week's question is "Who touched my clothes?" It's the story of the woman who hemorrhaged for 12 years and risked touching the hem of Jesus' robe, her faith telling her that if she could just touch his garment, she would be healed. I've often pitied this woman, but the writer of this week's chapter portrays her as a woman of bold faith. Come and find out why!
On Thursday evening this week, we will begin the support group for
children aged 6 to 12 who have an incarcerated parent. Please pray for
the children, their parents, and those who will be leading these groups! I can't wait to see what God will do!
Finally, please take a few moments to complete the Nominations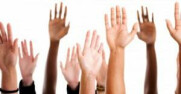 Survey on our website – whether you currently serve on a ministry team or not (even if you are not at the end of a term). For those who are currently serving, this is our mechanism for learning whether you wish to continue in your current position, and it is also the mechanism to determine whether you are interested in a particular ministry team. It will only take a few minutes. You can access the survey here: http://rumcweb.org/nominations-survey/ or by going to the homepage and clicking on the rotating picture that says "Nominations Survey."
See you on Sunday!