GROW IN YOUR FAITH!
Reisterstown United Methodist Church offers many opportunities for youth, young adults, and adults to meet and enjoy fellowship and study.
At special times in the life of the church (Lent Advent) church-wide studies may be offered. At these times some of the existing small groups may decide to offer the study within the group during its normal meeting time. New groups may be formed just for the purpose of the study. There are many ways to get involved and find a group to participate in. Take a browse through the many small groups that we offer.
Also, check out our events page to see more about what is being offered at RUMC.
ON THIS PAGE - QUICK LINKS:
Adult Small Groups -- Weeknights
Grow Hour/ Sunday School
Join us for Sunday School after the Children's Message during Worship (10:00 am)
Adult
7:00 p.m. every Wednesday
Contact: Rick Fairhurst at for questions.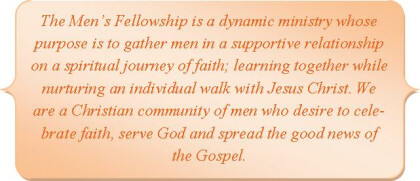 WEEKLY GATHERINGS
Each week, our gathering includes a time of book discussion or a movie, sharing our joys and concerns and fellowship over snacks. The group includes men from all walks of life and a wide range of ages.
ANNUAL EVENTS
(more information available about a month ahead of each event if you click as indicated below)
The Men's Fellowship hosts 3 annual events:
Chicken BBQ for Missions (summer)
The Men's Fellowship hosts an annual men's retreat, usually in September.
Warm Clothing Drive and Giveaway (first Saturday in November)
Questions?
Please contact Rick Fairhurst at for questions.
Proverbs 27: 17 "As iron sharpens iron, one man sharpens another." ESV
Reaching Learning Celebrating Serving
1st Thursday, 7 p.m.
We are a community of women whose purpose is to know God, to develop a supportive fellowship with each other, and to expand concepts of Mission especially for women, children and youth. All women are welcome to get involved!
The United Methodist Women at Reisterstown have received the highest level award, a Gold Level Mission Today Unit award, this past fall. There are only three UMW units in the Baltimore Washington District that have this honor. We won because of our commitment to missions, and our commitment to educate women on the difference mission work can make.
Current Mission Projects:
We support a male child from India, Sahaya, through Child Fund International
We provide monthly payments and volunteer time to the RUMC Food Pantry, Community Crises Center, and the Missions Committee to be used both locally and for international missions.
Fundraisers:
Ongoing sale of Gift Cards. There's a huge selection to choose from. Obtain a form from Lois Burton or Tammy Nash in the back of the church or click here to download the order form.
Holly Fair: A new fundraiser was started in 2013 which offers a Juried Craft Fair in the Reisterstown area. All crafts/arts are handmade and vendors are selected by a committee. For details click here.
UMW Reading Program
This is a great year to be a reader.
An Emory University study has shown that fiction readers tend to be more compassionate. We know reading non-fiction expands our boundaries and helps with brain function. Take all that and the 2016 UMW Reading Program list and a world of possibilities open! This year's list was developed with all that in mind, touching your heart and expanding your mind. Reading the books and keeping up with UMW's magazine, response are essential for understanding the mission of the United Methodist Woman.
There are four different reading program plans. The least ambitious plan involves reading 5 books this year for the reading list in the selected categories as well as the magazine and the most ambitious entails reading 20 books this year from a prescribed criteria.
There will be a good selection of these books in the Rachel Bruehl Memorial Library in the next week as well as copies of the magazine. Also on the shelves will be detailed instructions for participating in the program. The shelves for these are located to the right and near the desk as you come in the door. Top of Page
7:00 p.m. every Tuesday
Contact: Kelly Fairhurst (410) 356-8965
Purpose: Open to all women, to help them grow spiritually, and to provide a community of fellowship. Top of Page
4TH Monday, 7:00 p.m.
Contact: Sherry Osborne (717) 359-0257
J
esus First;
O
thers Second;
Y
ourself Last
JOY Mission Projects:
Women's Safe House in Carroll County. The purpose of the Domestic Violence Safe House program is to provide a safe shelter environment for women and their dependent children who are victims of domestic violence. They served 27 adults and 24 children in the last year.

JOY is one of their largest contributors, providing approximately $1,100 last year, plus Christmas gifts. In addition, two large collections are held a year, for household items, toiletries and personal items.

JOY sponsors a female child through Compassion International.

JOY donates to the UMW board to be used for local and international missions. Top of Page
2nd Wednesday, 7 pm
Mission Statement: To provide an environment of support, fun and fellowship and we invite any and all women to drop in to check us out. We are interested in putting our Christian beliefs and energy into family, youth and children's ministries with a focus on building a strong inclusive community.
Meetings are held the second Wednesday night at 7 p.m. August through May. We share devotions, work on mission projects and enjoy fellowship. We organize two major fundraisers each year.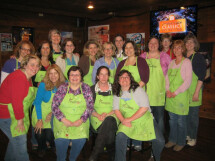 Our Annual Nut Sale is held in September and runs through November. The funds raised have been donated to outreach programs such as the RUMC Food Pantry, Youth Scholarships, Kairos Outside, Youth Program, local and global missions. This year we donated shoe kits to Sole Hope. Click Here for more information
Contact Tammy Nash with any questions or if you would like to join us.
Current Mission Projects: Youth, Food Pantry, donates to the UMW board for local and international missions for women and children.
3rd Wednesday, 7 pm
Contact: Cindy Smith (410) 833-7240
Prayer Shawls
Crafting Guild
Dates vary; set by group
Contact: Kate Strom (410) 833-5440
2nd and 4th Mondays at 9:30 am in 308 Main Street
Contact: Pat Botelle (410) 833-5440
Young Adult
Youth Ministries
This group is open to high schoolers and middle schoolers alike. We have a team of 4-5 adults who help to run things, generate discussion, keep things focused, and deliver insight. We tend to use most of 308 Main Street throughout the evening. Click it here to find out more if you dare...
Confirmation Class
Confirmation classes are designed to help youth in 8th grade or older prepare to renew their promises made at their baptism and claim the name "Christian" for themselves. Classes include lots of discussions, games, fun group projects, field trips, and mission projects. Confirmation Sunday is typically held on Pentecost Sunday.
When does this ministry take place? We meet in the education building next door that's called "308". Other times may be scheduled to make up classes due to inclement weather on schedule conflicts.
Are there meetings involved? Yes, Our kick off meeting for youth and parents/ guardians is held in late August/ early September to answer any questions. We review the course outline, expectations, dates, mission project and field-trips. Then we meet on Sunday mornings from 9:00- 10:00 AM September through May.
Contact the Youth Director: Susan Harry Top of Page