Welcome
... to the Reisterstown United Methodist Church Food Pantry!! We are a ministry of the Reisterstown United Methodist Church serving food to families in need. Our all-volunteer staff is ready to help you.
The RUMC Food Pantry is a partner with Maryland Food Bank and we work closely with the Community Crisis Center, Westminster Rescue Mission, and the Alpha Pregnancy Center. We operate solely by volunteers and via donations made to the Food Pantry. We are always looking for new partners.
We Serve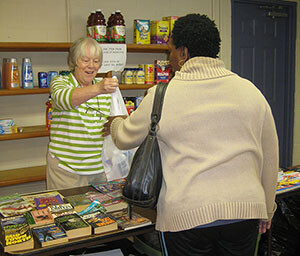 The RUMC Food Pantry serves the residents of Reisterstown, Owings Mills, Glyndon and Finksburg. If you live in those communities then you are welcome to stop by once a month for a free bag of food. Please note that ID is required to show residence in these areas. We also have a "swap shop" that makes clothing and other donated items available if you have a need.
Hours We Are Open
We are open:
Saturday mornings from 8:30 am to 10:30 am
Find Us
We are located in the basement of the Dale Chambers Community Center located at 308 Main Street in Reisterstown. Please come around back and take the ramp down by the brick wall.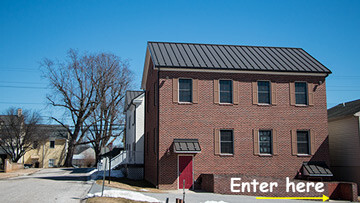 There's limited parking behind the Food Pantry so if the lot is full, please use the main lot behind the church.
Help Us
The Food Pantry is always in need of additional help as the need for food in our community continues to grow. We welcome connections with local businesses through food drives, financial donations, and volunteers.
We are always looking for donations of the following items:
| | |
| --- | --- |
| Cereal and oatmeal | Canned vegetables |
| Canned fruit and applesauce | Spaghetti and sauce |
| Macaroni and cheese | Soup and crackers |
| Peanut butter and jelly | Tuna and canned salmon |
| Rice and mashed potatoes | Mayonnaise, ketchup, vegetable oil |
| toothpaste, deodorant, shampoo | laundry detergent, liquid dish soap |
The Food Pantry can always use plastic grocery bags as well. You can drop off your empty bags where you drop off your food donations.
If you would like to volunteer to help in the Food Pantry, please copy and paste this link into your web browser to sign up.
http://www.timetosignup.com/rumcfoodpantry
Please contact the church office at 410-833-5440 if you would like to help with a food drive.
Financial donations are always welcome too. You can donate securely online by clicking here. Praise God and thank you for your support!
We would like to give special thanks to these organizations
Wawa
Panera Bread
Food Lion
Martin J. Smith foundation
Jeremy Adams Foundation
Dale Chambers Foundation
Northrop Grumman Corp
T.Rowe Price
McCormick Spice
Consolidated Insurance Center