Girl Scout Troop 2341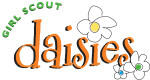 If your daughter is in kindergarten or first grade and would like to join Girl Scouts, then we are the troop for you! We meet at RUMC in room 7 on Fridays from 6:30-7:30 pm. We have lots of fun!! Some fun things we have done are a pizza party, a trip to the zoo, and we have had a few guest speakers, just to name a few. An EMT from the Baltimore County Fire Department will be coming soon to teach us how to be safe in our homes.
If you are interested in joining you can call or email Jess Thomas at 410-868-9937 or . Hope to hear from you soon!