Scripture Cats Group Forming - SPRING 2017 GROUP CANCELLED
Due to low enrollment, we are unable to offer the group at this time. Please call the church office (410-833-5440) if you have or know a child who needs an experience of this kind.
Do you have a special child in your life with a family member who is in jail or prison?
RUMC has developed a program based on a story book by Kelly Quickel, a member of LifePoint Church to help children cope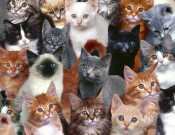 with the trauma of having a family member (particularly a parent) taken away to jail or prison. Click here for a downloadable registration and information flyer, including contact information if you have questions. The program will take place over 9 weeks and is planned for children aged 6 to 12 years. Enrollment will be limited and registration is necessary.
In addition to the program for children, parents and/or guardians are invited to stay for a support group as well.