Dear Friends,

This week our worship will center on FOCUS – the 4th essential element of the Daniel Plan. We live in a stressful, fast-paced time when we are pulled from one thing to the next with scarcely time to breathe. The Daniel Plan calls out to us to Focus on what it important and to Focus in such a way that we pay attention to what keeps us healthy and whole – and thus better able to parent and live in community with healthy relationships.
As we approach Palm/Passion Sunday, please note that on March 20, our services will begin on the front lawn if the weather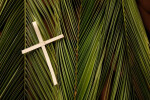 cooperates. (If the weather does not cooperate, we will begin in the Narthex.) Whether we begin inside or out, there will be about 20 chairs in the Narthex for those who find it difficult to stand for roughly 15 minutes. We will enter the sanctuary singing, following the reading of the story of the Palm Sunday Procession.
During Holy Week we will again walk through the drama of Jesus' last week on earth with services on Holy Thursday and Good Friday at 7 pm as well as a community service on Good Friday at noon. On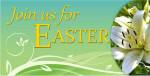 Easter we will again have 3 services, the first at 7:30 am with an informal breakfast, led by the praise band. At 8:30 and 10:30 am, the services will be spirited traditional, with several choirs participating, including the brass, youth, children and handbells.

Don't miss the youth group's Star Wars Theme Spaghetti Dinner on March 12 (see below for ticket and

other information) and the Chili Cookoff on the next day after church!
See you on Sunday!
Blessings on you,