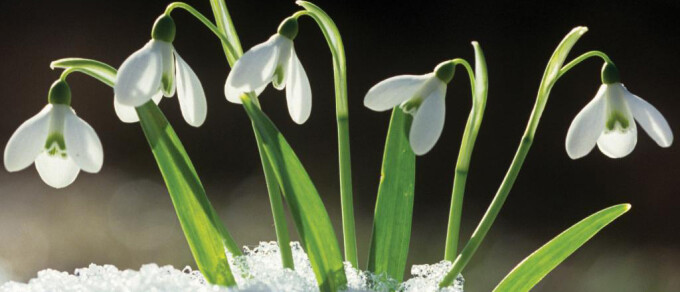 Dear Friends,
I don't know what it is about snow drops, but I look for them eagerly every February and I am never disappointed. They tend to bloom right when we need a little reminder that the beauty of spring is just around the corner. This year, mine are really late. They came up last week and just started to bloom this week. For me, they are a sign of Resurrection even more than lilies. They are delicate and brave. No matter how wet or how cold, they still get through. It looks to me like the deep snow kept them from blooming sooner, and I thought we wouldn't see them this year – but there they are! New life in the midst of the mud and the muck of all the mess we have had over the last weeks. They always make my heart sing. Easter is coming!
Our Lenten journey culminates this coming week with Holy Thursday, Good Friday, and ultimately EASTER! As we have been reading The God Story together, this is the week of the climax and resolution of the GREATEST Story Ever Told, and I hope that you will participate in all of the opportunities, finding yourself in these last chapters of the Lent/Easter story.
On Holy Thursday at 7 pm, we will gather in the Asbury Fellowship Hall to begin the service with the Last Supper. Then we will move to the Narthex to visit the Garden of Gethsemane and close the service in the sanctuary.
On Good Friday at noon, the churches of the Northwest Ministerial Association will gather for worship in our sanctuary, with the pastors of the Ministerium leading the service.
Then on Good Friday at 7 pm, we will gather in the Sanctuary for our own service, with a chancel drama of those who encountered Jesus in his walk to the Cross.
Saturday, April 4, is our BIG EASTER EGG HUNT. Please invite all the children you know to come and participate in the egg hunt, the craft-making, and the refreshments (see details below). Our Community Kitchen will offer lunch that day as well, and I hope that a number of us will show up to enjoy a meal and fellowship with our gathered community.
On Easter Sunday, April 5, we will have 3 services:
7:30 am – Asbury Fellowship Hall – Praise Service with breakfast and communion
8:30 and 10:30 am – Spirited Traditional Easter Worship with choirs, brass, and clowns
Don't Miss Out! See you in Church! Please remember to invite your neighbors who do not have a faith family!
Please note that I will be leaving after worship on April 19, for a week of study and worship planning. I will return on Saturday afternoon, April 25 and look forward to Youth Sunday, April 26!
Blessings on you,
Vivian